Stories and Music at Opening Night
The Naked Truth, a Dead Rabbit, and Viagra
---
Captivating an audience with a story - encapsulating the state-of-the-art of entertainment-education in one provocative statement - encouraging clear and truthful messages between sender and receiver. Speakers at the opening night of the Third International Entertainment-Education Conference for Social Change, at Arnhem and Amsterdam, The Netherlands, September 17-22, 2000 presented solid accounts of their unique interpretations of the goals and state of EE.
A Different Kind of EE Conference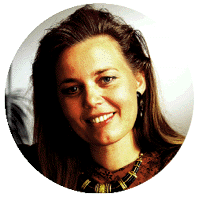 Martine Bouman, managing director of the Netherlands Entertainment-Education Foundation (NEEF) and conference host, opened the evening by welcoming the participants on behalf of the initiative group, consisting of Patrick L. Coleman, Deputy Director of Johns Hopkins University's Center for Communication Programs (JHU/ CCP), Vibert Cambridge, Director of the Communication and Development Studies Program of Ohio University, and herself.
"The entertainment-education strategy serves a great need in the urgent call to pay attention to affect as well as cognition in communication programs," Bouman stated. She provided a brief history of EE - the process by which positive messages are communicated to the public through the medium of popular cuture, including music, drama, television, film, and other art forms. This is the first EE conference held outside of the United States (the first was in 1989 in California, and the second in 1997 in Ohio). Bouman made it clear to everyone involved that it was the aim of the initiative group to design a unique conference experience for all participants. Less purely didactic presentations, the EE 2000 event would provide a participatory forum for the sharing of the "do's, don'ts, and doubts" that face EE practitioners. "Consequently, this will be no night of long speeches, but a sharing of short stories," Bouman explained, and gave the floor to professional storyteller Mary Sue Siegel.
The Story of the Naked Truth
Siegel presented in dramatic fashion a tale about a ravishing, mythic female named "The Naked Truth." "The Naked Truth" was gifted with the ability to see people as they plainly were, to name their core traits, imperfections and all. Thus, she roamed the countryside, and as she happened upon the country people and the towns folk, she declared to them (rather bluntly) what she saw about their character, including all of their shortcomings and weaknesses. In her desire to share the "truth" that she saw, however, she disregarded how her message was received; until she witnessed the harm that came from her sharing her blunt "truths." Eventually, "The Naked Truth" cried out for help, and she became "clothed" with robes of compassion and wisdom. Her story continued. Only now, "The Naked Truth" was always clothed with her robes of compassion (to care for the ones she was communicating with) and wisdom (to know how to communicate her truth to each one of her audiences).
The Rabbit Died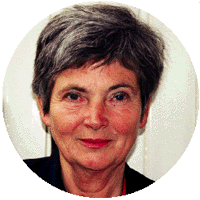 Following Siegel, Karin Jurgens, chair of the NEEF board, explained in a comical way the dire consequences of not telling the truth. Her story began with a woman whose dog showed up at her door one morning with the neighbor's pet rabbit, quite dead and quite dirty, hanging from its mouth. The woman did not want to face her neighbor with an explanation of what happened (because her neighbor hated her dog); so she cleaned the rabbit as best she could, brushed it up nicely, and snuck it back into its cage in the neighbor's backyard. The next morning the distraught neighbor raced in a flurry over to the woman's house, saying how their pet rabbit had died and they had buried it only to find it all clean and fluffy - but still dead - back in its cage. Jurgens expressed her hopes that the discussions at the EE 2000 event will be frank and open, and thus not lead participants into such dire straits as the woman in her story.
"EE is the Viagra of Health Communication"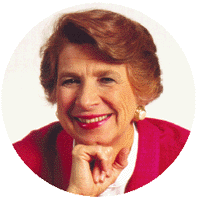 Her advice was followed by Phyllis Piotrow, Professor and Director of JHU/ CCP. Piotrow was frank and even a bit provocative with her statement that "entertainment-education is the Viagra of health communication."
Piotrow made it very clear that health communication is not the old, tired field that some might think it is. "There used to be some skepticism about the effectiveness of health communication," said Piotrow. "People compared health communication to those old-time, puritanical religions of which it was said: 'They don't keep you from sinning; they just keep you from enjoying it. '" But with the addition of Entertainment-Education, that is not true today. "In fact," she said, "just the opposite is true: EE can keep you from sinning and let you enjoy yourself in the process."
While Piotrow's Viagra remarks drew delighted chuckles from the audience, her message was serious. "In the field of health communication, EE theories have become more sophisticated, EE projects have become more pervasive, and EE evaluations are becoming more comprehensive and more controversial - all a sign of growing international interest." As examples, she cited two very popular EE efforts at Johns Hopkins: the American television project Following ER and the reality program Hopkins 24/ 7.
"EE and Viagra may have more in common than you think," continued Piotrow. "Both act by expanding human capacity to absorb and retain new material; both can be effective for women, as well as men; and both can bring new blood, new excitement, and new enjoyment to the whole field of health communication."
Ohio University Commits to Funding, Urges More Research on EE Impact
The final speaker of the evening was Kathy Krendl, Dean, College of Communication, Ohio University, Athens, Ohio. She spoke only briefly, yet surprised her audience by committing herself and Ohio University more than ever to the sake of EE. Krendl said that the job of administrators of EE programs is to provide the space and resources for the EE professionals to do their work, and that, in exchange, more research should be done to determine the impact of their projects. She noted that EE professionals are under pressure to please both their public and their donor-agencies.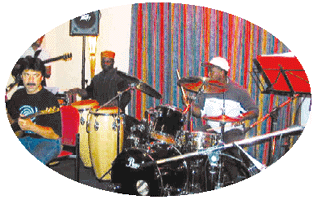 Intercultural Entertainment
In keeping with the intercultural theme of the conference, the evening continued with entertainment by the Global Music Band, featuring a danceable fusion that encompassed Suriname's kaseko, Hindustani pop, North African rai, and Turkish rock, weaving musical stories of ancient and modern times.